KOOL G RAP, Black Sheep and Others Take Over Baltimore Soundstage
Some of Hip Hop's greatest are headed to Baltimore!
This Friday Feb 1 you can catch KOOL G Rap & Black Sheep, Dirt Platoon, Handles w/DJ Kool Flash, C-Love, B.O.M.B. and DJ Excel at Baltimore Soundstage (124 Market Pl. Baltimore). Doors open for the all-ages event at 7:30 p.m. and the show begins at 8:30 p.m.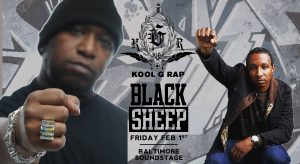 Hip Hop's golden era constituent, Queens' native and Hip Hop's staple, Kool G Rap, first gained momentum in the late 80s and early 90s as one half of the duo with DJ Polo. Simultaneously, G Rap and DJ Polo gained notoriety as members of the Juice Crew, whose noteworthy membership (including DJ Marley Marl, Big Daddy Kane, Masta Ace and Roxanne Shante) influenced direction of Hip Hop culture, lyricism, and battle raps. It also impressed upon style and technique of Hip Hop's heavy hitters such as Jay-Z, Nas, 2 Pac, B.I.G., Big Pun, and Ice Cube.
After a successful run with DJ Polo and the Juice Crew, G Rap's career took a solo turn, beginning with his first album 4, 5, 6 (1995), which preceded Roots of Evil (1998). The Giancana Story (2002) which featured AZ, Nas, Joell Ortiz, Mobb Deep, and CNN followed. Six years later, G Rap released Half a Klip (2008), presenting production by DJ Premier and DJ Marley Marl.
Kool G Rap released "Riches, Royalty & Respect" (2011), his fifth studio album which provided fans and audiences with G Rap's multisyllabic rhymes and classic storytelling knack, and also, well-rounded insight into G Rap's personal life. For the first time it's me reflecting on some of my more personal trials and tribulations, including experiences within my family life.
Kool G Rap resumes relevancy as a lyrical staple, collaborating with an array of artists including Rick Ross, Joell Ortiz and Black Milk, Vinnie Paz, Wu Tang also transcending beyond the shores of North America into Hip Hop's artists on a Global scale; UK, Ireland, Germany, Italy, Spain, Poland, Russia, Israel, Iran, Pakistan, Japan etc. Traditionally, G Rap's content is reflective of hardcore, street, and Mafioso milieu for storytelling, which like G Rap himself, continues to generate accolades not only amongst fans, but also amongst Hip Hop's most notable critics and cohorts, including Spin Magazine, MTV, the Rolling Stone Magazine etc., not excluding other worldwide major publications. In addition to G Rap's immaculate influence on lyricism and Hip Hop's trophy stars, his collaborations include a laundry list of who's who, including Ghostface, Marco Polo, Rick Ross, Mobb Deep, Big L, Talib Kweli, LL Cool J and M.O.P.
Lyricist, artist, MC, there are so many words that can be used to define the creative force that is known as Andres "Dres" Titus. A talented hip hop artist, Dres is known to many as one half of the iconic Hip hop group Black Sheep, a group that created one of the most notable songs of the hip hop genre, "The Choice is Yours" a song that has shaped the mold of the culture in more ways than one. The track also recently lent its recognizable sound to Kia Motors, being featured in a popular commercial for the auto company which resulted in a remarkable 24% sales increase for the brand.
Dres's story is an inspiring one, although it was a journey that was not always quite easy. Born to a teenage mother, Dres moved frequently, resulting in his leaving his birthplace of Astoria, Queens as a young man. Not many people can gracefully rebound from the culture shock of relocating as a teen from the hip streets of Queens, NY to the grassy fields of Fayetteville, NC; but Dres did, all while making it look pretty much effortless. He managed to adapt to his surroundings using the same skills he has lived his whole life with, style, candor, and creativity. Dres was always an artistic young man, who has been drawn to the power of words from a young age, "I gravitated to Stevie Wonder's music at around age 10," recalls Dres, "This was my introduction to the power of words." Intrigued by the power of learning, Dres excelled academically and participated in several extracurricular activities that contributed to his understanding of music, including playing the trumpet and singing in his high school's choir.
During his high school years in North Carolina, Dres linked up with another New York native William "Mista Lawnge" McLean, to form the group Black Sheep. The group found much success and went on to become the first hip hop group to perform on the Tonight Show with Jay Leno, collaborated with top acts like Vanessa Williams, and in 2008 had their signature song "The Choice is Yours" ranked on VH1's 100 Greatest Hip Hop Songs. Black Sheep was also an integral part of The Native Tongues, a group of artists and talent that shared similar views and a dynamic love of music. The Native Tongues included hip hop icons like A Tribe Called Quest, De La Soul, and Queen Latifah.
During later years Black Sheep disbanded, and Dres went on to continue to make his mark in the music industry. Dres describes his style as limitless within the genre, and he strives to always push himself to achieve new heights of creativity and meaning when he writes his rhymes, "I think I have an exceptional ear for knowing what compliments me as an artist," Dres says of his talent. His latest project exemplifies that creative intuition and has brought him to collaborate with Jarobi of A Tribe Called Quest, in a new group called evitaN. evitaN looks to reenergize the current state of hip hop, bringing the culture back to a level of authenticity. "Through our music I hope to show the world that belief in yourself is paramount," says Dres, "and that caring for yourself, family, and people never goes out of style." evitaN is ready to change the face of Hip Hop music— the world is waiting.
Tickets to this show are just $22 and can be purchased online at https://www1.ticketmaster.com/kool-g-rap-black-sheep-baltimore-maryland-02-01-2019/event/1500558CCD715BCA.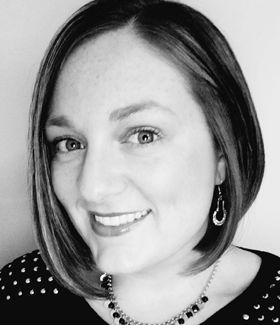 Tess Abney is a freelance writer who was born and raised in the Quad Cities. She spends most of her time attempting to successfully raise three boys. In her free time, writing is her passion. Whether it is sharing local events and businesses with readers or sharing her thoughts on life, she finds comfort in the way words can bring people together.